Wild Ones: Native Plants, Natural Landscapes is pleased to share that we are the recipients of the "Tom Dodd, Jr. Award of Excellence" which was presented at the 2022 Cullowhee Conference on Native Plants in the Landscape in Cullowhee, North Carolina on Friday, July 22nd.
This prestigious award has been given annually since 1987 to individuals or organizations for excellence in one or more of: conservation of native flora in situ; studying and promoting the understanding of our native flora; building expertise in the propagation/cultivation of native plants; or the use of native plants in a diversity of natural and designed landscapes. Wild Ones was recognized for our efforts in the area of native plant education. Prior recipients have included Lady Bird Johnson, Larry Mellichamp, Wild Ones Lifetime Honorary Director Doug Tallamy, Wild Ones Front Range (Colorado) Chapter member Jan Midgley and Wild Ones Middle Tennessee Chapter members Mike Berkley and Terri Barnes.
Wild Ones Board President Sally Wencel shared that "about two dozen Wild Ones Members attended this year's conference. When I first attended Cullowhee, there were only one or two! It goes to show how Wild Ones has grown over the years. We are proud that we now boast strong member representation at this distinguished conference and were very surprised and thrilled to receive the Tom Dodd, Jr. Award of Excellence. We were especially pleased that a number of our members were there to celebrate the occasion."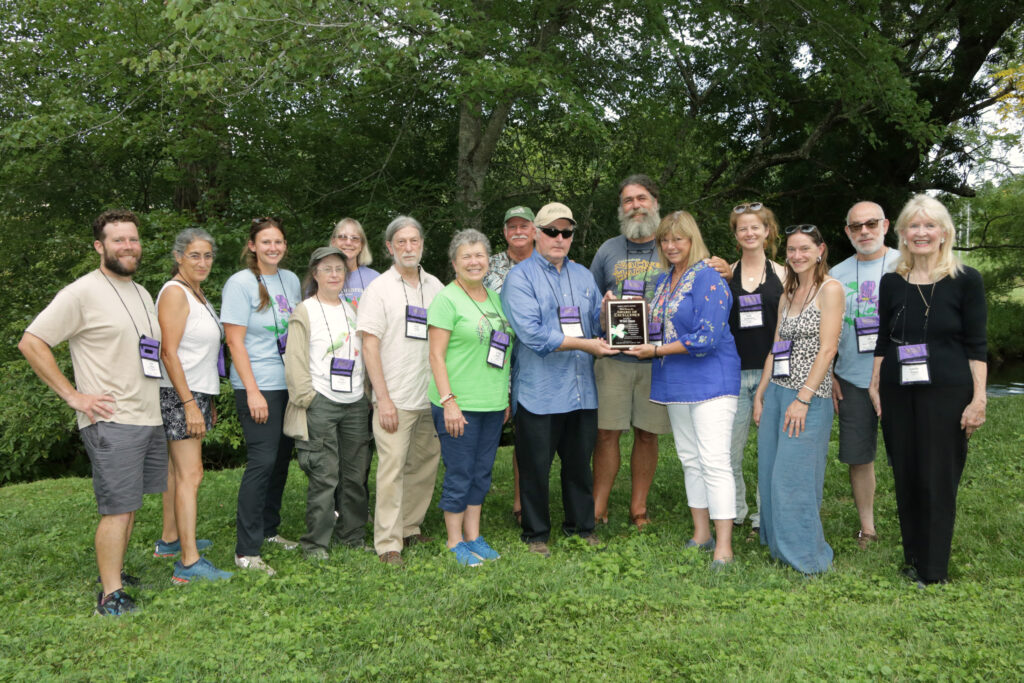 Wild Ones Executive Director Jen Ainsworth also expressed her enthusiasm at Wild Ones receiving this thoughtful recognition. "We are honored to be the recipients of this meaningful award from the Cullowhee Conference and are humbled to be considered among so many other prominent individuals and organizations in the native plant movement who have received this award in the past. We remain as committed as ever to our important work of educating others about native plants."
In 1977, the first seeds were sown for Wild Ones, which today is a nationally recognized, membership-based non-profit organization with a mission to promote environmentally sound landscaping practices to preserve biodiversity through the preservation, restoration and establishment of native plant communities.
Wild Ones achieves our mission by providing quality, online learning opportunities open to the public that feature experts in the native plant movement, producing free, ecoregion-specific, native garden design templates to help people start their first native garden, awarding "Lorrie Otto Seeds for Education" grants that engage youth in planning, planting and caring for educational natural landscapes, publishing a quarterly, award-winning journal featuring valuable native plant information and resources and supporting the grassroots efforts of 99 nationwide Wild Ones chapters and seedlings in 28 states representing over 7,800 members.
Wild Ones depends on membership fees, donations and gifts from individuals like you to share with others the critical role landscaping with native plants has in helping save our environment.