Just when the caterpillar thought the world was over, it turned into
a butterfly." – Anonymous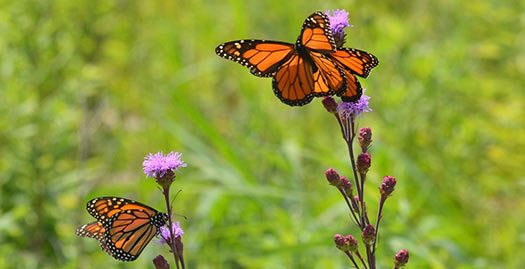 Our Partners in Wild for Monarchs
At the 2012 Wild Ones Annual Membership Meeting, the membership voted to partner with Monarch Joint Venture and Monarch Watch's Bring Back the Monarchs program to help the monarchs and their migration. As a result of that meeting, Wild Ones established a committee which spent the next eight months developing information, materials, presentations and contacts which officially became the Wild for Monarchs campaign. The campaign is designed to harness the power of our national membership and our 50 local chapters to educate and advocate for the monarchs and the native plants that support the monarch population and their migration.
Moving for Monarchs became our partner in 2014 and has shared the stage with us here at the WILD Center.

In 2015 we expanded our partnerships to include The Nature Conservancy's Go Wild with Native Gardening program and the National Pollinator Garden Network's campaign to register one million pollinator gardens nationwide. Preserving, restoring and establishing native plant communities is the most effective way to preserve habitat for native pollinators – bees, butterflies, including monarchs, ants, and bats. We see these partnerships as a step in the right direction toward better native habitat development, management and protection.
Native pollinators are an essential part of a healthy environment and our very livelihood. Wild Ones and our partners will continue to educate the public about the importance of maintaining native habitat for our native pollinators and to promote the use of appropriate native landscaping best practices.
Monarch Migration in Danger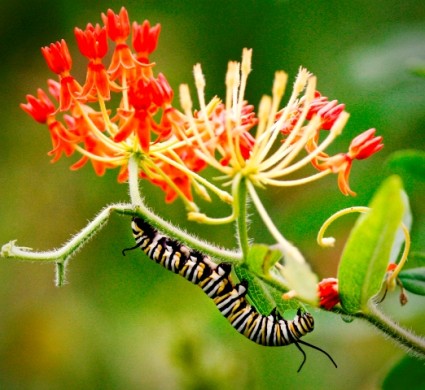 The Monarch Butterfly (Danaus plexippus) is the state insect of Alabama, Idaho, Illinois, Minnesota, Texas, and West Virginia. Although this magnificent insect is not endangered, many populations face an uncertain future due to habitat loss in their wintering grounds in Mexico and California as well as in summer breeding grounds throughout North America. If you would like to read more information about the monarchs and their migration, please go to our monarch migration in danger webpage. Here you'll find information and links to other good resources and websites.
What US Federal Government is Doing About It
In May 2015, the White House has issued the National Strategy to Promote the Health of Honey Bees and Other Pollinators .As a follow up to that announcement in June 2015, the First Lady Michelle Obama again welcomed students from across the country to participate in the ten Let's Move! sub-initiative programs to harvest the White House Kitchen Garden. During this same event, she took the opportunity to also highlight the National Pollinator Garden Network Challenge. These steps all were the result of the strong steps the White House took in 2014 toward developing a plan to improve monarch and pollinator habitat including more research. Following that President Obama issued a Memorandum creating a federal strategy to promote the health of honey bees and other pollinators. The fact sheet on the economic challenge posed by declining pollinator populations guidelines is thought-provoking. As a result of President Obama's Memo, managers of federal facilities are integrating pollinator-friendly strategies into everyday design, operations and maintenance activities.
What Wild Ones is Doing About It
The Wild for Monarchs committee has done a superb job in developing materials to educate the public about the native plants that monarchs need to thrive and to survive their migration. This webpage includes the Wild For Monarchs campaign materials, including a list of plants that should be in your yard. Here you will also find some of the very excellent articles carried in the Wild Ones Journal about the awesome monarch butterfly. Please read What Wild Ones Is Doing About It to learn more.
Wild Ones Milkweed in State Capitals Letter Writing Campaign
Wild Ones recently launched a letter writing campaign asking the state governors to grow milkweed at the state capitals and at their residences. We thought you might like to join this campaign by writing letters to the governors of your states. Follow the link above to see a sample letter, emails and talking points you can use in your own correspondence or go to Letter Writing Campaign for more information.
What You Can Do To Help
Yes, everyone can do something to help the monarch. Saving milkweed seed for Monarch Watch's Milkweed Market is a big something you can do to help also. Here is a list by state of the seed Monarch Watch is looking for. Use the label included under Milkweed Basics to successful ship your seed to Monarch Watch. You too can be Wild for Monarchs! To purchase milkweed plugs through Monarch Watch go to Monarch Watch Milkweed Market To find a local supplier of milkweed seed through Xerces Society go to Milkweed Seed Finder. If you would like to transplant milkweed, here is a wonderful article that will help. Moving Milkweed