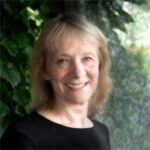 Pam Todd
Board Member - Board of Directors
"In wildness is the preservation of the world." -Henry David Thoreau
Joined Wild Ones: April 9th, 2013
Board Term: 2018-2022
Serves on: Grants (chair), Honorary Director (co-chair) and Native Garden Design Committee
Contact: [email protected]
Chapter: Wild Ones West Cook
Chapter Role: Immediate Past President
Favorite Native Plant: Pawpaw (Asimina triloba)
About:
Pamela Todd is the co-founder of Wild Ones West Cook, with members from Chicago, Illinois and suburbs. She is the author of THE BLIND FAITH HOTEL (Simon and Schuster, 2008), a novel about a young girl who is sentenced to community service at a prairie preserve. THE BLIND FAITH HOTEL was a co-winner of the 2009 National Green Earth Book Award for Young Adult Fiction, an ALAN pick for December 2008, and was awarded an Illinois Arts Council grant. She works as an educational strategist for Global Genes, an umbrella non-profit for rare disease advocacy groups. Pam and and her husband, Donn, recently moved to Michigan where they are restoring the 80-acre farm which has been in their family for 140 years. They have a son, three daughters, and three grandchildren.
What inspired you to become involved with Wild Ones:
The hope of saving all that we love.