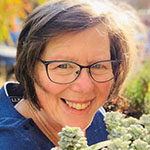 Loris Damerow
Vice President - Board of Directors
"In wildness is the preservation of the world." -Henry David Thoreau
Joined Wild Ones: January 27th, 2011
Board Term: 2020-2024
Serves on: Executive, Governance and Honorary Directors committees
Contact: [email protected]
Chapter: Wild Ones Ann Arbor
Favorite Native Plant: Prairie Dock (Silphium terebinthinaceum)
About:
Having recently retired from the non-profit sector in the field of grief and bereavement, registered art therapist, Loris Damerow, cares about relationships. She believes that our relationship with the earth is a particularly important one. A former Master Gardener and lifelong plant enthusiast, her professional career has followed both the themes of loss and renewal; from organizing community support for grieving families to championing civic gardening projects. For nearly a decade, she ran A New Leaf Garden Design helping clients co-create beautiful green surroundings. During her 14 years in Appleton, WI, she took on many roles in the Wild Ones Fox Valley Area Chapter, including president, while learning more about the vital role of native plants in our world. She and her husband, Arno, now live in Ann Arbor, Michigan, in a multi-generational household with a very big yard. There, you will often find her exploring nature or digging in the dirt.
What inspired you to become involved with Wild Ones:
The Wild Ones' phrase, "saving the planet, one yard at a time", highlights the power of each individual to make a difference in improving our world. Native plants and human beings need each other. Promoting the use of native plants and sustainable landscape practices is what the Wild Ones organization is all about. Through education and advocacy, Wild Ones fosters the joy of gardening with native plants and the benefits of environmentalism. This membership organization helps restore diversity and balance to our world. I can't think of a better time on our planet to be in engaged in this interesting and vital endeavor.