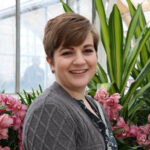 Holly Latteman
Board Member - Board of Directors
"Spread love everywhere you go. Let no one ever come to you without leaving happier." -Mother Teresa
Joined Wild Ones: August 1st, 2019
Board Term: 2020-2022
Serves on: Grants committee
Contact: [email protected]
Chapter: Wild Ones Columbus
Favorite Native Plant: Flaming Azalea (Rhododendron calendulaceum)
About:
Holly received her Bachelor of Arts degree in Zoology, Sociology/Anthropology, and Environmental Studies from Ohio Wesleyan University in 2017. Holly earned her Master of Science in Environmental Studies from Ohio University in 2019, focusing on black vulture range expansion and human wildlife conflict. Holly has a breadth of research experience, analyzing feather degrading bacteria on common yard birds, bacterial load and monitoring of avian nest boxes, diet and paternity studies of captive bird species, phenology monitoring of various taxa, black vulture range expansion and human wildlife conflict, right-of-way vegetation and wildlife presence and reforestation/restoration research. Holly evaluates current research projects and communicates outcomes to the scientific community as well as the general public. Holly involves the community in conservation research by creating opportunities in various citizen science programs or restoration initiatives. Holly serves as president of the Wild Ones Columbus chapter and director on the Wild Ones national board of directors. As a director, she serves committees focusing on grant acquisition, financial management and the native garden design program. As the Science and Conservation Manager at The Dawes Arboretum, Holly manages research project development, implementation and evaluation of project outcomes. She also manages the collection of native seed for use in restoration and conservation at The Arboretum. Holly has led the collection of over $70,000 worth of native seed in two years. To prepare the future leaders in conservation, Holly manages the Advanced Training Program comprised of seasonal employees, AmeriCorps volunteers, interns and residency programs.
What inspired you to become involved with Wild Ones:
My local chapter introduced me to the beauty of Wild Ones. A kind and knowledgeable group bringing nature into the city and beyond. I am inspired by the work of Wild Ones in our communities and the impact this has in our urban environments. I hope to bring my communications, research and community-engagement background to the national organization to inspire the next generation of environmental stewards.