Photo Contest 2020 – Judges Gallery – Natural Landscaping Category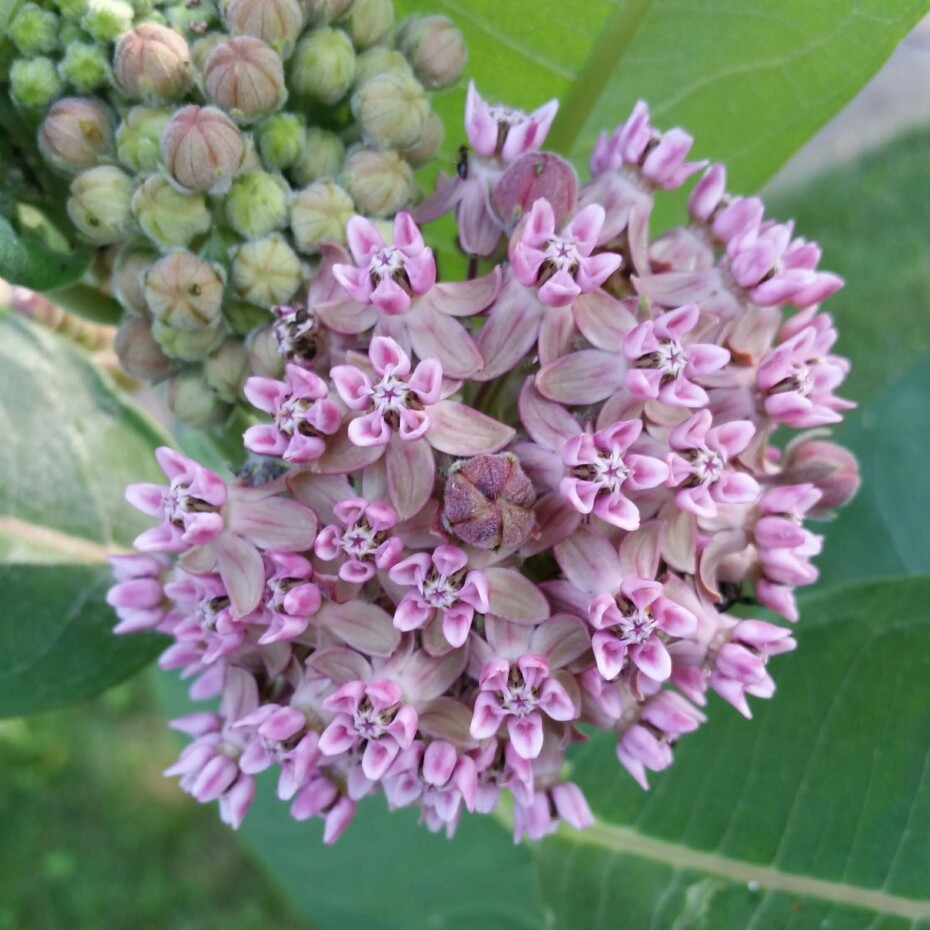 Open fullscreen
Filename Cathy-Streetts-Common-Milkweed-Asclepias-syriaca-BLOOM.jpg
Entry Title Common Milkweed (Asclepias syriaca) BLOOM!
Location my native home garden
Equipment Samsung S5
Entry Story The blooms of Common Milkweed are not only beautiful the scent is intoxicating for humans as well as all types of native bees, butterflies etc. It is a no-nonsense plant that supports the caterpillars of monarchs as well as many other species that are dependent on everything from the leaves, seeds, and even the roots. It is a must have for any midwestern native garden.
---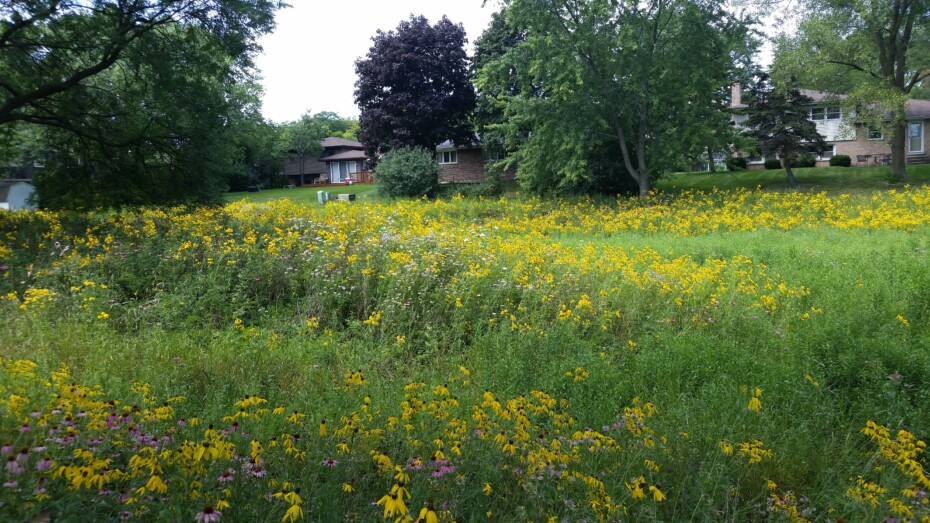 Open fullscreen
Filename Cathy-Streetts-Wild-Bergamot-Monarda-fistulosa-and-Yellow-Coneflower-Ratibida-pinnata-stealing-the-show.jpg
Entry Title Wild Bergamot (Monarda fistulosa) and Yellow Coneflower (Ratibida pinnata) stealing the show
Location Chestnut Park rain garden, Darien IL
Equipment Samsung S5
Entry Story A beautiful July day as the Wild Bergamot and Yellow Coneflower were showing their beauty and importance for native pollinators as everywhere there was buzzzzz. This park was converted to a rain garden featuring native plantings a few years ago. I serve on Darien Garden Club's board and we encouraged the Darien Park District board to change the turf lawn into a native plant rain garden along with other organizations. This project was completed with help, funding and encouragement from many organizations including the Darien Park District, the Gift of Carl Foundation, and The Conservation Foundation. I have visited the park weekly to photograph the changes in the floral and fauna and use the photos to encourage others on our club's Facebook page as well as sharing the success with my WO's chapter, West Cook
---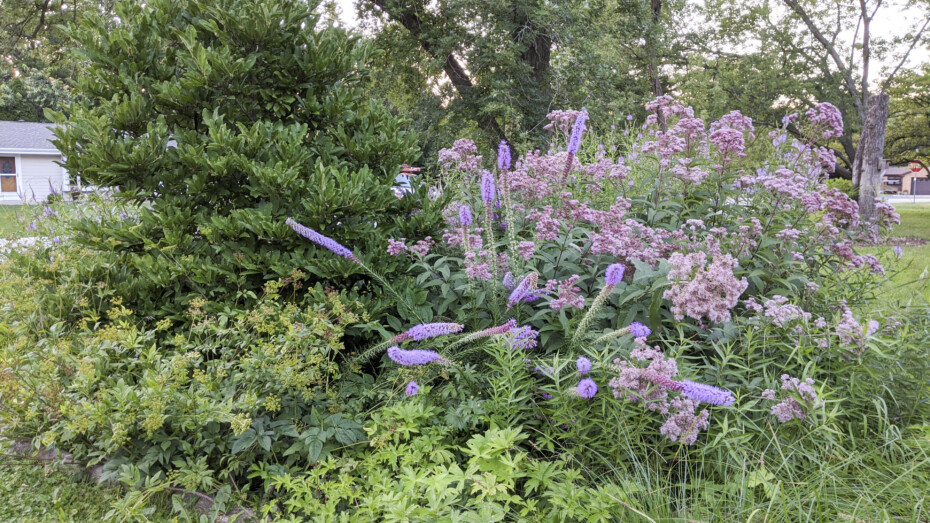 Open fullscreen
Filename Danielle-Bell-Rain-Garden-Explosion.jpg
Entry Title Rain Garden Explosion
Location Client's property in Hales Corners Wisconsin
Equipment Photo was taken with Google Pixel Phone
Entry Story This rain garden was installed in 2019 for a client that was new to native landscaping. The amount of growth in one season was very impressive to the client and myself. I enjoy the variation of textures with the massing of Joe Pye Weed in the background and the Blazingstar exploding in every direction framed by Golden Alexanders at the perimeter.
---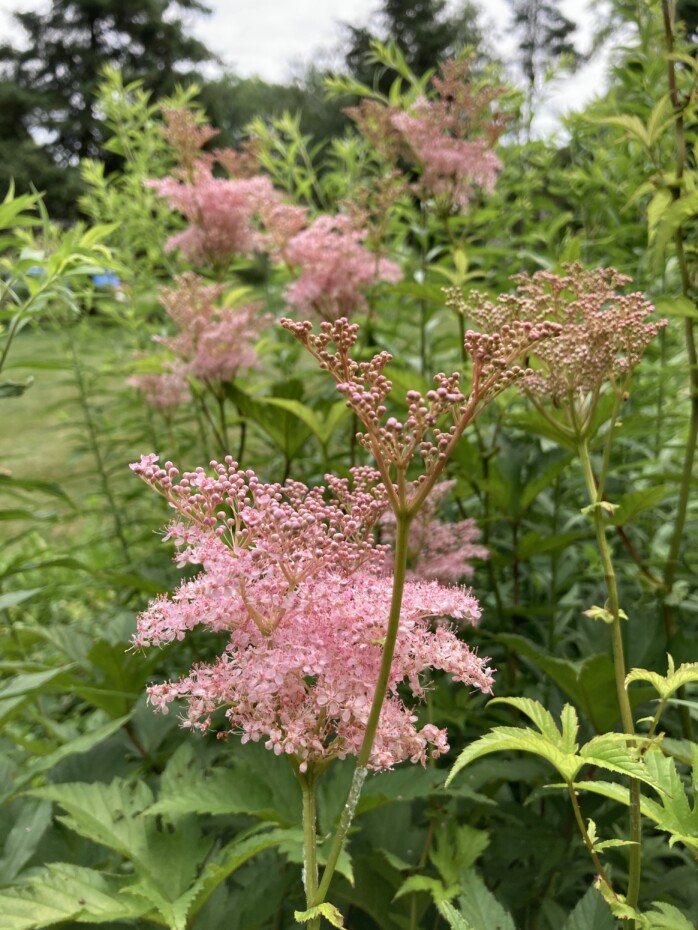 Open fullscreen
Filename jean-leroy-queen-of-the-prairie.jpeg
Entry Title Queen of the prairie
Location 8-Jul-20
Equipment I phone
Entry Story Took the back 20' of my property to a prairie garden. Queen of the prairie is one of many natives I have planted in that area.
---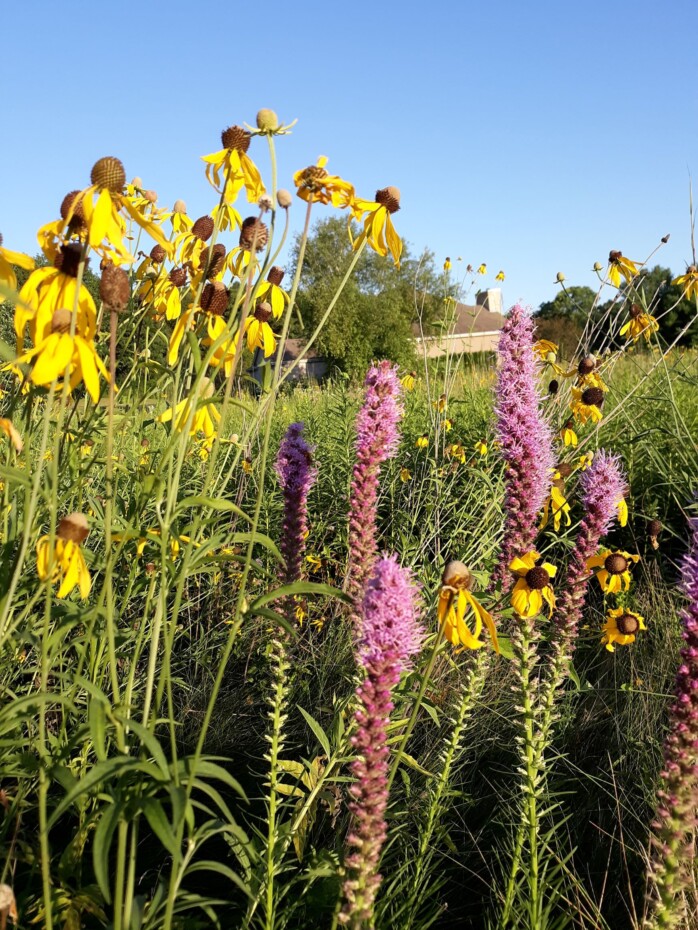 Open fullscreen
Filename Jean-WeedmanPrairieHome-1.jpg
Entry Title Prairie Home
Location at our home
Equipment Samsung phone camera
Entry Story We have prairies on our property and enjoy the lovely scenes through the year. Here the yellow coneflower and the blazing star compete for attention.
---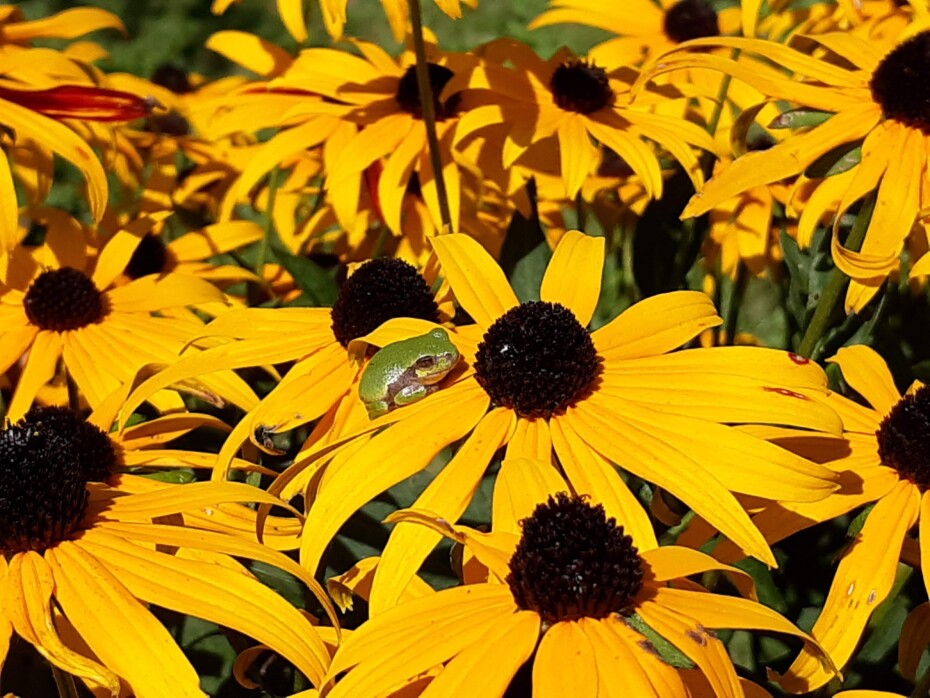 Open fullscreen
Filename jean-weedman-sunning.jpg
Entry Title Sunning!
Location Eagle Nature Trail in Eagle, Wisconsin
Equipment Samsung phone camera
Entry Story The Eagle Nature Trail provides a natural habitat which critters of all types enjoy. This little tree frog find a colorful spot at the tops of rudbeckia to feel some sun and warmth.
---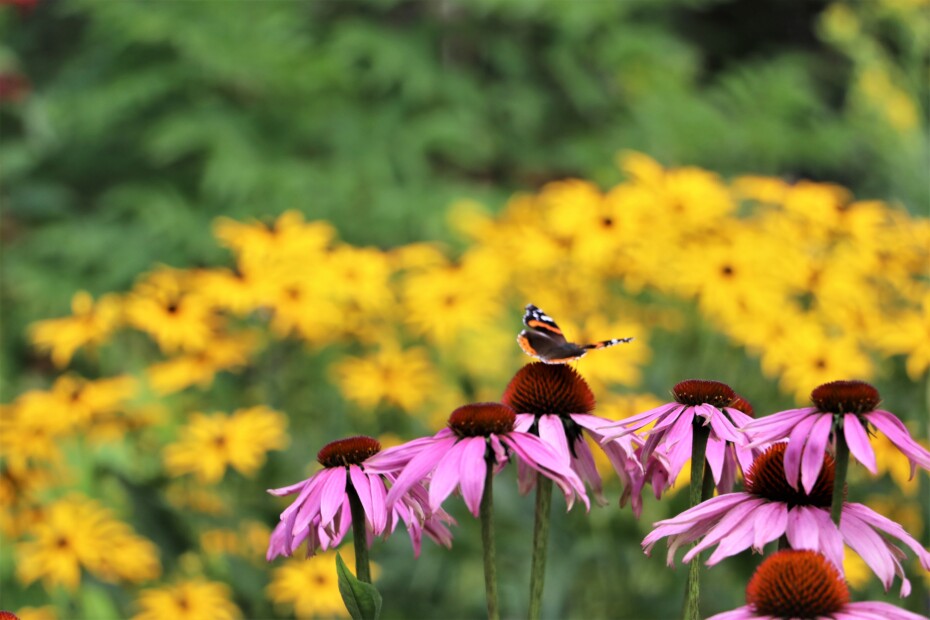 Open fullscreen
Filename ken-greshowak-summers-colors.jpg
Entry Title Summers many layers of color
Location my yard
Equipment Canon D80
Entry Story Flower many colors provide layers.
---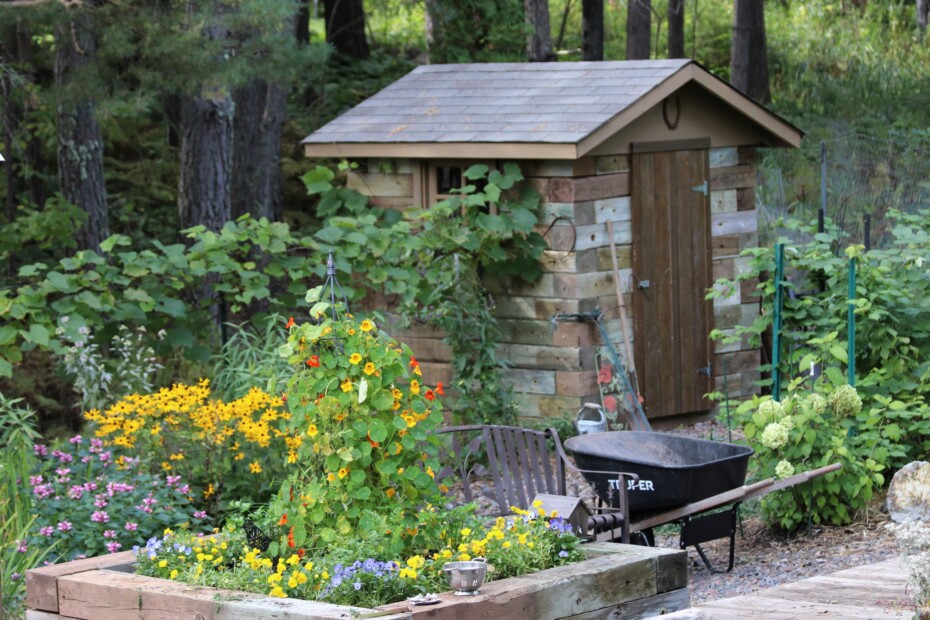 Open fullscreen
Filename Ken-Greshowak-The-potting-shed.jpg
Entry Title The Potting Shed
Location my yard
Equipment Canon 80D
Entry Story The potting shed may not be pretty but provides a integral function in the garden. Our shed keeps tools and materials organized and dry. This shed is constructed from re-purposed guard rail posts, solid enough to be storm shelter as well. The vegetable raised deep beds are lined with salvaged cedar boards to keep soil chemical free.
---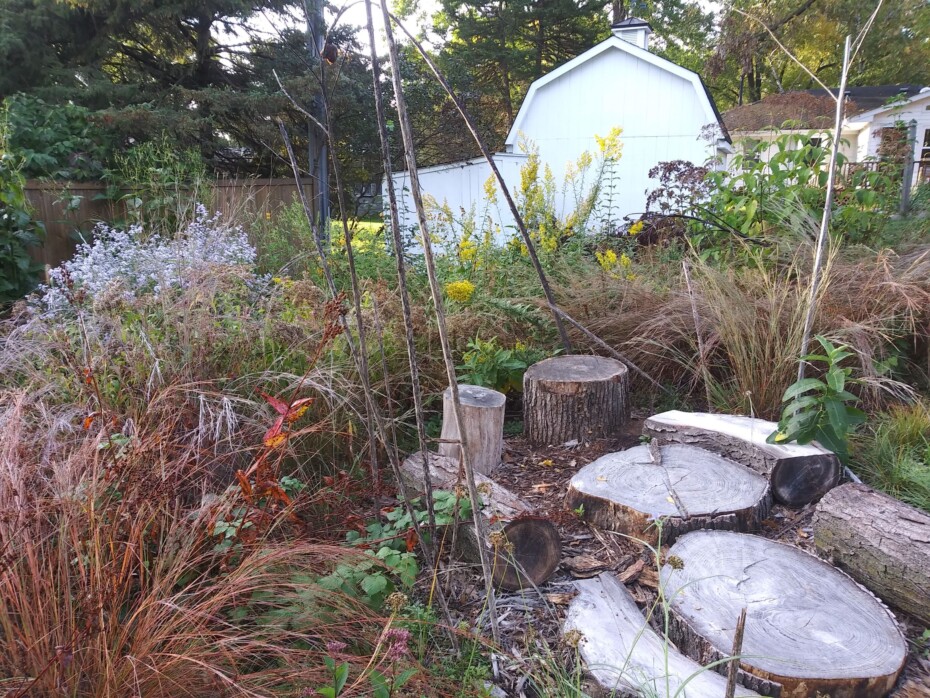 Open fullscreen
Filename Nathalie-Shanstrom-Prairie-Fall-Colors.jpg
Entry Title "Prairie Fall Colors!"
Location Our Back Yard
Equipment Lg Smartphone
Entry Story Tree stepping stone and stumps seating nook among native plants in full fall glory! (including Little Bluestem, Showy Goldenrod, Sky Blue Aster, Cup Plants, Big Bluestem and Joe Pye Weed). My son and I played or sat in this nook daily most of the growing season!
---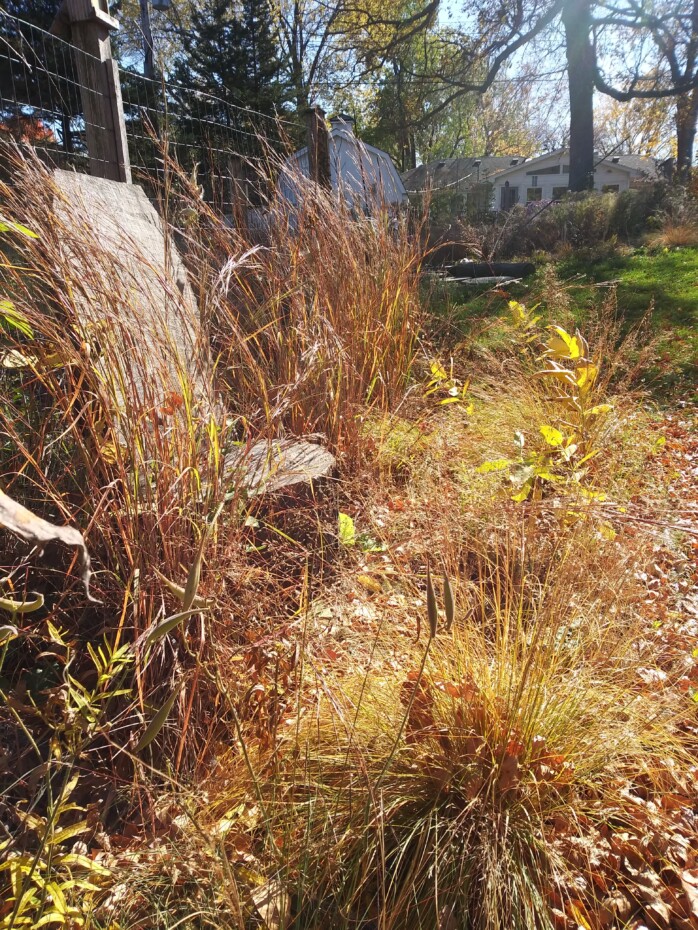 Open fullscreen
Filename Nathalie-Shanstrom-tree-throne.jpg
Entry Title Tree Throne
Location Our Back Yard
Equipment Lg camera
Entry Story Natural seating nook among native grasses glowing in the fall sun (prairie dropseed and little bluestem with some butterfly and common milkweed)
---