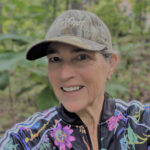 Lifetime Member
Sally Wencel
President - Board of Directors
"No problem can withstand the assault of sustained thinking." -Voltaire
Joined Wild Ones: June 1st, 2012
Board Term: 2014-2022
Serves on: All committees
Contact: [email protected]
Chapter: Wild Ones Tennessee Valley Chapter
Chapter Role: Immediate Past President
Favorite Native Plant: Cumberland azalea (Rhododendron cumberlandense)
About:
Sally Wencel is the current President of Wild Ones (2020), having previously served as Vice President (2015-2018) and board director since 2014. While a Master Gardener of Hamilton County, she and two Master Gardener colleagues launched the Chattanooga Native Plant and Wildflower Group. In 2012, the group was chartered as Wild Ones Tennessee Valley Chapter, the first chapter in the Southeast. She served as chapter President (2014, 2019), Vice President (2012-2013, 2015, 2020), Co-Chair and Program Manager for the Certificate in Native Plants (2015-2020), Plant Natives! Annual symposium co-chair (2017-2019), co-chair of the Chattanooga Area Pollinator Partnership (2018-2020), among other duties and projects. In addition to her service with the Wild Ones, Sally is a member of the City of Chattanooga Tree Commission (2012- ) and served as Vice Chair (2013) and its Chair (2014-2016). A former for-profit CEO, corporate counsel, and adjunct business school professor, Sally thought she was retiring in 2016 but instead accelerated her involvement in non-profit organizations much to her husband's dismay. Sally has a Juris Doctorate (University of Wisconsin – Madison) and Masters of Business Administration (University of Tennessee – Chattanooga) but enjoys propagating, promoting, educating about native plants and starting new projects more than anything.
What inspired you to become involved with Wild Ones:
When my native plant special interest group was involuntarily terminated by the master gardeners, we co-founders searched for an organization that represented our concerns about environmentally sound gardening practices and promotion of native plant communities. We found Wild Ones, researched it, contacted then Executive Director Donna van Beucken and the rest is history. I became a Lifetime member the year of our chapter's founding to reflect my commitment to WO's mission and the organization. In 2014, for some reason, I was asked to join the Wild Ones board but remain as involved as time allows in chapter activities because "all politics is local" (Tip O'Neill).