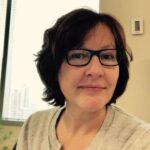 Michele Hensey
Board Member - Board of Directors
"Our world is asking for gardens to be more, to light the way to a new relationship with nature, to be radical in their roots and their blooms." -Benjamin Vogt, A New Garden Ethic
Joined Wild Ones: January 6th, 2021
Board Term: 2021-2024
Serves on: Finance, Governance and Seeds for Education (chair) committees
Contact: [email protected]
Chapter: Wild Ones Southeastern Pennsylvania
Favorite Native Plant: Common Ninebark (Physocarpus opulifolius)
About:
Michele lives in West Chester, Pennsylvania and is a member of the Southeastern Pennsylvania Chapter of Wild Ones. She recently retired from 35 years in the Financial Services and IT industry. Michele is active in her community and currently studying Ecological Gardening with Mt. Cuba Center in Hockessin, DE. She brings a wealth of agile and design thinking capabilities to her current interests, is the owner of a native plant design small business as well as a seasonal employee of a local native plant nursery. Michele and her husband enjoy traveling, hiking and nurturing their property to be a biodiverse part of a community in need of conservation.
What inspired you to become involved with Wild Ones:
I came across the Wild Ones national organization while searching for experienced resources and groups in the native plant landscaping space. I was drawn to their mission of education and planting native landscapes across the country. Although there are many local resources and being part of our SEPA chapter is especially rewarding, I was inspired to help continue this mission and have a national impact. I truly believe that education has a long-term impact; once people understand that their yards can have a positive impact on biodiversity, species' extinction, and ultimately climate change - they are usually hooked and excited to join in!