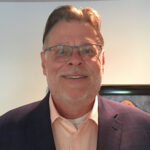 Karl Ackermann
Treasurer - Board of Directors
"The plants can be teachers, but we must know how to be students." -Robin Wall Kimmerer
Joined Wild Ones: October 2nd, 2015
Board Term: 2020-2024
Serves on: Executive and Finance (chair) Committees
Contact: [email protected]
Chapter: Wild Ones Gibson Woods
Favorite Native Plant: Spotted Beebalm (Monarda punctata)
About:
Karl grew up on the South Side of Chicago. He credits his interest in gardening to his parents who led their local garden club in Riverdale, Illinois. After joining Wild Ones four years ago and being inspired by Lorrie Otto, Doug Tallamy and his fellow chapter members, he quickly realized this organization is not your parents' garden club! As James Madison wrote in the 1790s, "There is a relation and proportion between flora and fauna." Karl has extensive global business experience, having worked in 16 different countries. He has done complex business engagements involving CEOs of billion-dollar companies, shop floor associates and everyone in between. The focus of these engagements has always been continuous improvement. His background also includes volunteering with the United Way and leading a community needs assessment. Karl is the president and treasurer of the Gibson Woods Wild Ones chapter in Northwest Indiana. The group has relationships with schools, garden clubs, businesses, the Shirley Heinze Land Trust, Save the Dunes, The Nature Conservancy, Master Gardeners and others. Karl notes that the projects they are working on, together with regular speaking engagements and fundraising, result in growing membership and a healthy chapter.
What inspired you to become involved with Wild Ones:
Karl's vision for Wild Ones includes growing membership by doing the right things in the right way. He believes that engaging relationships at all levels and working together on projects is the essence of bringing about continuous improvement in any situation. Karl sees a great opportunity to share best practices between chapters, and that today, more than ever, there is a great sense of urgency to educate and lead by example the importance of native plants in the home landscape. "The Wild Ones organization has relationships with local, regional and global organizations, and we can parlay these relationships for our mutual benefit and get our message out," he said. "Ultimately, we are making our own legacy to make this world a better place for our children." Karl can use his experience to help analyze and foster continuous improvement in the whole Wild Ones organization and help strengthen internal and external relationships.