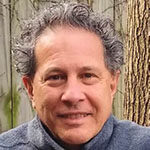 Lifetime Member
Jim Poznak
General Counsel - Ex Officio - Board of Directors
"At the end of the day, the Wild Ones is all about getting native plants into the ground."
Joined Wild Ones: November 28th, 2016
Board Term: 2020-2024
Serves on: Executive and Governance committees
Contact Wild Ones: [email protected]
Chapter: Wild Ones West Cook (IL) Chapter
Favorite Native Plant: Rattlesnake Master (Eryngium Yuccifolium)
About:
Jim lives in Oak Park, Illinois, a suburb of Chicago. He is married to Susan Messer, a writer and editor, and they have one daughter, Selena. Jim is now retired, after having practiced law since 1979. Jim started as a staff attorney with a nonprofit legal aid office, where he was also on the attorney union's bargaining committee. From 1993 until May 2020, Jim had his own law practice, assisting entrepreneurs with many varied legal issues, including contracts, business disputes and trademarks. In 1985, Jim was a founding member of the Oak Park Lap Swimmers Association. As the Association's lead negotiator, Jim convinced the local Park District to provide the first-ever dedicated hours for lap swimmers at the community pool, which still continues and has benefitted countless residents. Jim also served as a committee chair, vice-president, president and board member of the Greater Oak Brook Chamber of Commerce. Jim organized monthly speaking opportunities for Chamber members and the Chamber's first-ever trade show, which raised around $10,000 annually for about 10 years. Jim has served as an advisory board member of the College of DuPage Business Development Center, an advisory board member and attorney for a nonprofit that promotes dental health, and the attorney for a nonprofit that rescues border collies. Since 2011, Jim has organized and supervised dinners for homeless people, serving around 55 guests monthly. Since 2016, Jim has been a member of the West Cook Wild Ones, which fostered his passion and advocacy for native plant gardening. Recently, Jim assisted the Wild Ones National Board with its trademark registrations.
What inspired you to become involved with Wild Ones:
Jim embraces the Wild Ones' vision statement expressed on its website, namely, (a) to collaborate with organizations that have goals similar to those of the Wild Ones, (b) to become recognized as the primary advocate for native gardening, to the same extent as organizations such as the Audubon Society and the Sierra Club are recognized for their work, and (c) to promote native gardening by individuals. As a National Board member, Jim also hopes to help improve the Wild Ones' racial and age diversity, its financial stability, and most importantly, the Board's service to the Wild Ones local chapters.