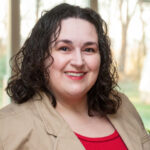 Carrie Radloff
Board Member - Board of Directors
Joined Wild Ones: February 21st, 2017
Board Term: 2021-2022
Serves on: Governance committee
Contact: [email protected]
Chapter: Wild Ones Loess Hills
About:
Carrie grew up in northwest Iowa on an acreage that has since been certified as a Century Farm. Her family was very involved in Boy Scouts, and by exploring the land and being raised under the "Scout Law", she developed appreciation and respect for the environment and all living things. She attended Westmar University in her hometown of Le Mars, and was selected to be Melton Fellow which allowed her to travel extensively and work with and learn from people from other cultures, including Europe, Africa, China, India, and Chile. Volunteering is the center of Carrie's life. In addition to the decades-long involvement with the Melton Foundation, her previous service includes terms on the Leadership Siouxland board and Iowa State University Extension's Council for Woodbury County. She now focuses on environmental issues. She helped found Loess Hills Wild Ones in 2017. She chairs the Northwest Iowa Group of Sierra Club and serves as its delegate to the Iowa Chapter's Executive Committee. She's a current member and former chair of the Sioux City Environmental Advisory Board. Carrie worked for 15 years in higher education at Western Iowa Tech Community College and the Tri-State Graduate Center, where she helped coordinate training for nonprofit employees and leaders. After that, she was an ACA health insurance navigator and a wind energy advocate. Carrie earned a B.A. in International Communication and Mass Communication, an M.A. in Philanthropy and Nonprofit Development, and certificates in Nonprofit Management from Compassion Iowa and from the Iowa Principles and Practices for Nonprofit Excellence. She completed Leadership Siouxland and Climate Reality Project training, and is a Master Gardener and Master Conservationist. She enjoys connecting and coordinating ideas, information, and people in order to achieve shared goals as efficiently as possible, and is proud of the many things she and her colleagues have accomplished over the years. Carrie lives in Sioux City, Iowa, with her husband.
What inspired you to become involved with Wild Ones:
In contrast to my other environmental work, Wild Ones focuses on one thing: getting more native plants into the ground. Native plants are the Swiss Army Knife solution to so many issues, and more people need to hear that message.